Southampton street cleaners join pay cut strike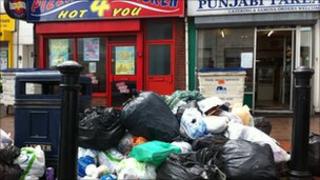 Street cleaners have joined a strike by Southampton council workers in a row over a proposed pay cut.
Refuse collectors, traffic wardens and Itchen bridge toll collectors are also continuing industrial action.
The unions said it will mean about 200 workers will be on strike. The council said the pay cut is needed to avoid 400 job cuts.
A protest march organised by the Unite and Unison unions was also held in the city.
About 55 street cleaners have started a seven-day strike.
They join about 100 refuse collectors who are on a two-week strike to end on 22 June.
About 40 traffic wardens and about 20 bridge workers are also continuing their action.
'Not a war'
One street cleaner told BBC News: "We don't do this because we enjoy doing it... we don't want to upset people in the city.
"But if we all just roll over where is it going to end? We've got to stand up and be counted.
"It's not about winning or losing, it is about making a point. This is not a war, it is a dispute."
The strike is in response at a plan by the Conservative-led authority to impose new contracts on the city's 4,300 council employees.
In February, councillors finalised budget cuts of £25m and said all workers earning more than £17,500, which is 65% of staff, would have their pay cut by reducing working hours.
The city council said the alternative to pay cuts was to lose another 400 staff on top of 285.
The workforce has until 11 July to accept the reduced terms, or face the sack.
Royston Smith, leader of the council, said: "This is about trying to save jobs.
"If Unison and Unite were serious about their members they will be talking to their members about saving jobs.
"We are trying not to sack people... we are trying to provide the services for the tax payers that pay for it."
A meeting between the unions and the council, along with conciliation service Acas, has been arranged for Thursday.