Man rescued from Woolston apartment block fire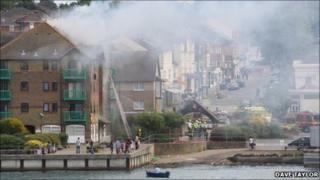 An elderly man has been rescued from a balcony after a fire broke out at an apartment block in Southampton.
Crews were called at 1235 BST to Jackmans Close in Woolston to reports of smoke and flames coming from a flat.
The man was rescued and taken to hospital where he is being treated for the effects of breathing in smoke.
The cause of the fire is being investigated, a spokeswoman said. Eyewitness Tony Velupillai said he saw "licks of flames" coming from a window.
He added: "I am directly opposite the flats and saw smoke pouring out.
"It looks like it is coming from the second floor, there were big licks of flames coming from the window.
"It is almost out but there is still a lot of smoke. It looks like it has gone straight to the back of the apartments."
She added that the fire started on the second floor but it is unclear in which room.