Hampshire groups win Queen's volunteering award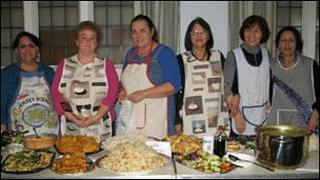 Six community groups in Hampshire have been awarded the Queen's Award for Voluntary Service, the highest honour in the UK for volunteers.
The International Cookery Exchange (ICE) from Southampton was one winner. It brings women from different cultures together to cook new national dishes.
Hampshire Search and Rescue, Ocean Youth Trust, AFC Portchester Football Club, Off the Record and Rowhill Nature Reserve Society were also winners.
They were among 130 UK groups honoured.
Dame Mary Fagan said on behalf of the Queen: "All six of the Hampshire winning groups are outstanding examples of how voluntary service contributes hugely to sectors of the community.
"It is important for us all to recognise the work of such organisations and I am delighted to be able to pay tribute to the groups' co-ordinators and their volunteers who are so dedicated and work so tirelessly."
'Splendid achievement'
The ICE has catered for groups including sheltered home residents, police support officers and refugees.
Maria Theresa Ewart-Blake, from ICE, said: "We were notified about two weeks ago about winning the award but were asked not to say anything until it was formally announced.
"The ladies at the International Cookery Exchange were dying to tell their family and friends."
The group was set up in 2008, supported by Southampton City Council.
Councillor Peter Baillie said: "This is a splendid achievement. The women at ICE volunteer their time to cook for the wider community including bringing warm nutritious food to the vulnerable. They are committed volunteers."
Each of the six groups will receive a certificate signed by the Queen and a piece of commemorative crystal.
Eighteen groups from Hampshire have now won the award since it was created in 2002.