Queen safety police wheel-clamped in Portsmouth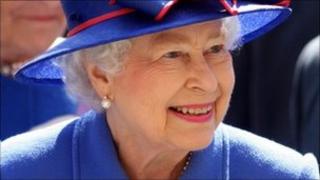 Two police officers had their vehicles wheel-clamped as they carried out security duties for the Queen's recent visit to Portsmouth.
The two unmarked police vehicles were clamped during the surprise royal visit to Gunwharf Quays on Wednesday for lunch aboard a luxury yacht.
Hampshire Police said the officers had "not left the vehicles".
The alleged clamper, Gareth Andrews, 37, from Fareham, has been charged with obstructing police.
Mr Andrews, of Privett Road, is due to appear before South East Hampshire Magistrates' Court on 3 June.
Police said the incident had stopped them "conducting their duties".
Wheel-clamping firm Shoal Enforcement said the police officers had declined to prove they were on duty when asked, and had subsequently arrested their member of staff.
During the Queen's unannounced visit she had lunch on board the 245ft (75m) super yacht Leander, owned by NCP car park millionaire Sir Donald Gosling.
Crowd gathered
Shoppers were taken by surprise when they heard she was near to the Gunwharf Quays shopping complex, which she visited in 2002 as part of her Golden Jubilee Tour.
A crowd gathered to see her leave the yacht and applauded her as she waved back to them.
The Queen had arrived in Portsmouth by helicopter, having attended a dinner the evening before hosted by US President Barack Obama at the end of his state visit to the UK.
A Hampshire Constabulary spokesman said the incident had prevented "the officers, who were at Gunwharf as part of a security operation, from conducting their duties".
"The officers had not left the vehicles at the time they were clamped."
A Buckingham Palace spokeswoman said that she could not confirm details of the visit as it was a "private engagement".
'No officers in vehicles'
Shoal Enforcement said: "A plain-clothes police officer produced his warrant card and requested that both vehicles be released.
"Our member of staff confirmed he would release the vehicles if the police officer would provide confirmation that he was on duty.
"The police officer declined and arrested our member of staff for obstruction.
"There were no officers in the vehicles at any time during the incident and our member of staff was correctly displaying his SIA licence."
Mr Andrews was also charged with contravening the Private Security Industry Act for allegedly not displaying the appropriate licensing badge.