Lord Nelson's eye erased from Portsmouth dockyard bust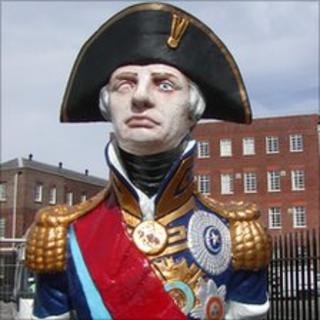 A 170-year-old figurehead of naval hero Admiral Lord Nelson has had its right eye removed during a makeover.
The alteration has been made to the bust at Portsmouth's dockyard to make the figure historically accurate.
Nelson was blinded by cannon fire in Corsica. For previous restorations, the eye had been painted in.
Standing at about 9ft (2.7m), the wooden bust which once adorned the bows of HMS Trafalgar is on show alongside HMS Victory in Portsmouth's dockyard.
The figurehead's medal decorations have also been altered.
Research showed the gold Order of the Crescent, a decoration created by Sultan Selim III in August 1799 to honour Nelson on the first anniversary of the Battle of Nile, would have originally been silver.
Centenary celebrations
The bust has been amended and restored in time for next month's centenary celebrations of The National Museum of the Royal Navy in Portsmouth.
The work carried out by figurehead historian, Richard Hunter, will also help prevent weathering to the historic bust.
Mr Hunter said: "Over the years so many fine-looking figureheads have been lost due to apathy and neglect.
"Important and valuable relics of the world's rich maritime heritage have been allowed to just simply rot away."
Horatio Nelson was born in Burnham Thorpe, Norfolk, and died during the victory at the Battle of Trafalgar against the combined French and Spanish fleets in 1805.