Ian Faletto's 'train trolley sacking' heads to Parliament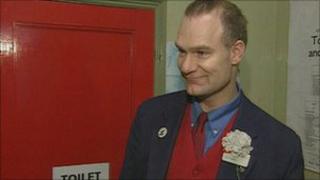 A campaign to reinstate a rail worker who said he was dismissed for going on to the line to remove a shopping trolley is to be taken to Parliament.
Ian Faletto said he broke safety laws in a bid to stop a possible accident from happening near Lymington, Hants.
Tory New Forest West MP Des Swayne has backed a petition against the sacking, which has been signed by 8,000 people.
South West Trains said the facts were "fundamentally different" from Mr Faletto's version of events.
The award-winning employee told the BBC he arrived for work and spotted a shopping trolley on the single-line track between Brockenhurst and Lymington Pier.
In what he described as an "emergency situation", he used a broom to push it off the line having earlier asked for the power to be turned off, although it later transpired it had not been.
South West Trains said Mr Faletto had been dismissed for a serious safety breach and an appeal upheld the decision.
'Spitting blood'
Earlier, about 10 campaigners, including local vicar the Reverend Alex Russell, travelled to London to hand in the petition to South West Trains.
The group demanded to meet a representative but the firm said it had previously agreed to meet with just one of them and refused.
Mr Swayne said he was "spitting blood" but South West Trains said the MP had declined a private meeting with the firm.
"I have now accepted the petition from the vicar of Pennington and I will present it in Parliament in the week after the Whitsun recess," Mr Swayne said.
Mr Faletto has received the backing from the RMT transport union, which demanded the release of what it called "relevant" information.
A South West Trains spokesman said the firm was "puzzled and disappointed" by what it called attempts to "create confrontation" and were upset by behaviour directed at building staff.
The firm said the facts were "fundamentally different" from the "seriously inaccurate picture painted".
"We can understand the feelings and interest in this case in view of what people have read and heard," he said.
"It would be entirely wrong for any disciplinary decision to be influenced by external parties or factors.
"Our internal consideration of the case is closed and we will not be carrying out any further review of the matter.
"However, we remain ready to ensure the full facts concerning what was a serious breach of safety are made public at an employment tribunal if required."