HMS Gloucester returns to Portsmouth for a final time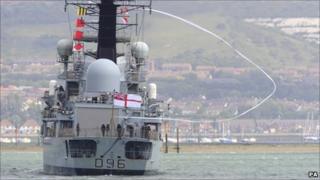 A warship has returned to its Hampshire home port for the final time ahead of its decommissioning next month.
HMS Gloucester sailed into Portsmouth Naval Base on the same day the Royal Navy's new Antarctic patrol vessel arrived there.
The ice-breaker MV Polarbjorn is set to be renamed HMS Protector and will be accepted into the navy fleet in June.
HMS Gloucester, a 29-year-old Type 42 destroyer, holds a missile-firing record from the first Gulf War.
The ship returned to port in traditional fashion by flying a decommissioning pennant, following a farewell visit to its namesake city and a training exercise involving the US, French and Spanish navies off the south west coast of the UK.
The navy's fleet of ageing Type 42s is being phased out to make way for the new hi-tech Type 45 destroyers.
Took out missile
HMS Gloucester was built by Vosper Thornycroft in Southampton and was launched on 2 November 1982 by the Duchess of Gloucester.
During its service around the world it has clocked up 787,928 miles.
Nicknamed the Fighting G, HMS Gloucester's most notable action came in January 1991 when it was escorting the American battleship USS Missouri close to the Kuwaiti coast during the Gulf War.
As the Missouri came under attack by an Iraqi seersucker missile, HMS Gloucester fired a salvo of sea darts to knock it from the sky in what proved to be the first validated, successful missile versus missile strike of its kind.
MV Polarbjorn entered Portsmouth under the Norwegian flag and will be officially named HMS Protector on 1 June. It will be commissioned into the Royal Navy fleet on 23 June.
It will take on the navy's Antarctic mission in November while the future of HMS Endurance, which suffered major flooding off Chile in 2008, is considered by the Ministry of Defence.