Lyndhurst church embarks on archaeological dig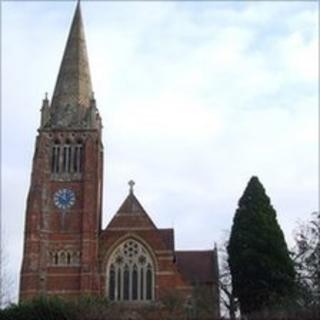 A New Forest church is starting an archaeological investigation which it is hoped could reveal clues about medieval settlements in Lyndhurst.
The dig at St Michael and All Angels will remove a 5ft (1.5m) deep and 16ft (5m) wide earth mound to allow a new driveway to be built.
Any fragments of artefacts could give an insight into previous settlements and religious activity on the site.
Volunteers are being recruited to complete the work over the summer.
The work to move the mound is being undertaken as bridal cars and hearses are currently not able to drive up to the ceremonial west door of the church, and block traffic when they park on the busy high street.
'Tantalising prospect'
There was no archaeological investigation undertaken when the current church was built in the 1860s. However it is known that it replaced one built in the 1760s.
Records also show there was a royal hunting lodge on the site of the current Queen's House, adjacent to the church, which was known to have had a chapel attached.
Vicar the Reverend James Bruce said: "There is a tantalising prospect of a medieval chapel somewhere near the present church building."
He admitted much is based on local legend and little scientific evidence.
He said: "It's the artefacts which could be interesting, if we find actual signs of human civilisation. With Lyndhurst's history going back to prehistoric times, you never know."
"Any human remains will be reinterred respectfully elsewhere in the churchyard, with records kept," he added.
Two experts from Wessex Archaeology will supervise the volunteers and deal with any finds.
Project manager Sue Parr said: "There is always the potential and a chance of something interesting. You don't know until you look.
"It's always fun and a great way to meet people," she added.
As part of other improvement works, there are also plans to investigate beneath the church floor for other evidence of religious activities on the site.