Chelsea Flower Show: Garden centre hopes for 66th gold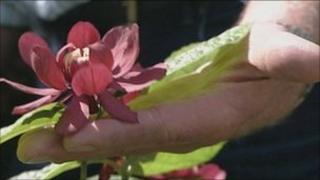 A Hampshire garden centre is hoping to be awarded a 66th consecutive gold at the world-famous Chelsea Flower Show.
The Hillier nursery at Ampfield holds the world record of 65 consecutive gold medals from the show, organised by the Royal Horticultural Society.
Its exhibit features 3,500 plants, mature trees, a stream, eye-catching sculpture and a "tone up" trail.
Garden designer Andrew McIndoe said: "It's the ultimate - it's the best flower show on earth."
He added: "It's a hard thing to give up, I have this love hate relationship with the show."
Putting on the exhibit at the renowned gardening show is a year in the planning for the nursery, takes a team of 20 to stage and costs up to £100,000.
The garden centre is expected have the biggest garden at the five day show within the show's Great Pavilion, which hosts displays from the world's leading exhibitors.
Mr McIndoe said: "It takes an enormous amount of effort, it's a huge commitment to put on an exhibit of that size."
Hillier Nurseries was established in 1864 and have shown at every Chelsea Flower Show since its inception in 1913.
Over 200,000 people are expected to visit the 98th Chelsea flower show, which opens on Tuesday.