HMS Liverpool commanding officer on Libya gun battle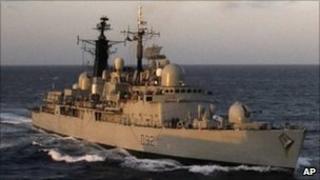 The commanding officer of a Hampshire-based warship which came under fire off the coast of Libya has told the BBC how they managed to evade being hit.
HMS Liverpool was providing air defence cover for Nato vessels 40 miles (64km) from Misrata when it was attacked with rockets from the shore.
The Portsmouth-based destroyer fired its main gun at the attackers and helped several ships move to safety.
Cdr Colin Williams said nobody had been injured in the exchange on Thursday.
He told BBC News his crew had been in danger but had worked bravely and calmly under pressure.
'Very calm'
"It's fairly unusual [that we are fired on from shore]," he said.
"However we are fully trained and prepared to deal with all those sorts of eventualities.
"This is actually the second time it's happened while we've been providing cover for other units working closer into the coastline.
"We had a number of rounds that were coming in off the coast directly towards us, which we managed to evade and extract ourselves from.
"It's not something the ship hasn't seen before. We are prepared and trained in all respects to deal with it.
"We went about our business in a very calm, cool, professional way."