MP likens sacked train master to Railway Children scene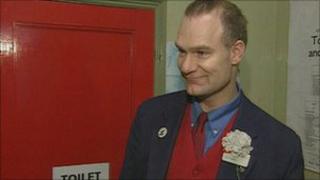 An MP has likened the sacking of a station master who said he broke safety laws to move a trolley off a track to a scene from The Railway Children.
Desmond Swayne, Conservative MP for New Forest West, backed a campaign from Lymington residents calling for South West Trains to reinstate Ian Faletto.
It said Mr Faletto was dismissed for a "serious breach of safety" and there had been an internal investigation.
In the novel a character climbs onto the track to warn a train of danger.
Famously played by Jenny Agutter in the 1970 film, Roberta uses her red bloomers as a flag after there had been a landslide.
"She was probably breaking health and safety rules but she was thanked for it," Mr Swayne said.
"I think there has to be a sense of proportion in this case and you don't sack a man who has an outstanding record for doing something that he did to protect the public.
'Emergency situation'
"Perhaps that deserves a reminder of the health and safety rules and a slap on the wrist, but to sack a man?"
Hundreds of people have signed a petition calling for Mr Faletto, who was popular among passengers, to be reinstated.
Mr Faletto is considering taking South West Trains to a tribunal.
The single-track branch line runs between Lymington and Brockenhurst in the New Forest.
Mr Faletto said he arrived for work, noticed a shopping trolley had been thrown onto the line and knew it had to be removed before the first train came.
"I went on the track and I removed a shopping trolley.
"Obviously having a train half an hour later it had to be removed before it hit it or derailed.
"I went on to the track, I called it an emergency situation.
"I had asked for the power off and it turns out the power had not been turned off, fortunately I had taken a wooden broom handle."
South West Trains said: "This action was taken following a full and thorough internal investigation and the decision was also upheld at an appeal hearing.
"Our absolute priority is to run a safe railway for our passengers and staff.
"All of our employees are aware of the importance of complying with the strict rules governing railway safety, which we have a duty to enforce, and the serious consequences of disregarding them."