Winchester hospital 'dirty bomb' exercise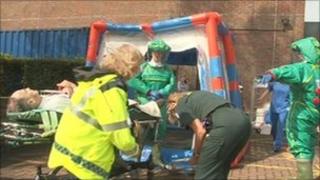 Staff at the Royal Hampshire County Hospital have been practising how they would respond if a toxic bomb exploded in Winchester city centre.
A mock major incident was staged earlier to see how the hospital would cope in the event of a disaster.
Volunteers acted as casualties to test the hospital's emergency procedures.
The exercise was centred around the accident and emergency department and also involved fire and rescue crews and police.
Dr Ewan McMorris, from the hospital's A&E department, said: "The scenario is a bomb - it's what we would describe as a dirty bomb so may contain nuclear material.
"We're getting our decontamination tent out so that so that we can run through procedures to decontaminate patients when they arrive.
"We are working with the Casualties Union who are kindly providing us with 25 individuals who are dressed up and made-up to look like real casualties so that we can test all our systems to ensure they work."