HMS Diamond welcomed in Portsmouth with ceremony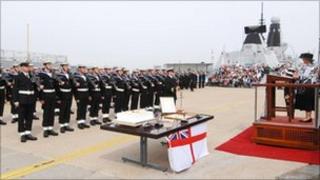 Hundreds of crew members and their families have attended a "christening" ceremony in Portsmouth for the Royal Navy's latest warship.
HMS Diamond, the third of six new type-45 destroyers, was commissioned in front of its 190-strong crew and invited guests at the naval base.
All six of the new warships will be based in Portsmouth.
The band of the Royal Marines, based at HMS Collingwood, provided the music for the hour-long ceremony.
Principal guests were Admiral Sir Trevor Soar, the commander-in-chief fleet, and Lady Johns, the ship's sponsor who launched it on the River Clyde in November 2007.
HMS Diamond's commanding officer, Commander (CO) Ian Clarke, read a commissioning warrant and the ceremony was rounded off in traditional Royal Navy fashion by cutting a commissioning cake.
'Proud moment'
Performing the honour were the CO's wife, Joanne, and the youngest member of the ship's company, 17-year-old Engineering Technician Ross Hindmarch.
Cdr Clarke said: "This is a proud moment for all on board HMS Diamond.
"As she nears the end of her trials phase, this ceremony marks our transition to front line service. Thereafter, the emphasis will be on combat readiness in preparation for our first deployment next year.
"I'm thrilled that so many families, friends and affiliates, some from overseas, were part of our momentous day."
A navy spokesman said: "The Type-45 Destroyer is the largest and most powerful air defence destroyer ever built for the Royal Navy."
The first, HMS Daring, was commissioned in July 2009, followed by HMS Dauntless in June last year. The fourth, HMS Dragon, is due to arrive in Portsmouth in September.
The warships are armed with high-tech Sea Viper anti-aircraft missiles and have a large flight deck that can accommodate helicopters the size of a Chinook as well as take onboard up to 700 people in the case of a civilian evacuation.