Bishop of Winchester retires after 15 years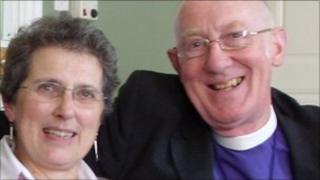 The Right Reverend Michael Scott-Joynt is stepping down as the Bishop of Winchester after leading the diocese for 15 years.
The 96th Bishop of Winchester wants to be remembered for helping Christian people be "more confident and effective followers of Jesus".
He said: "My hope is that we are more cheerful, more focused and relaxed and more explicit about being Christian."
A service will be held at Winchester Cathedral on Saturday to farewell him.
Against homosexuality
During his 15 years in service, the bishop has tackled some prominent social issues.
He chaired a Church of England committee in 2000 to relax the rules governing the remarriage in church of people who have been divorced and took a stand against homosexuality.
He said: "It's never been a comfortable stance to take because many of my friends, colleagues, people I respect and like and people in my family have either disagreed with or been embarrassed by the position I have taken.
"As the Church of England, the place for the fullest human sexual activity is within the lifelong marriage of a man and a woman."
For the longest serving Bishop of Winchester in over a century, retirement is going to represent a huge change from the hectic schedule he is used to.
'Change gear'
The 67-year-old said: "The schedule is punishing, but it's also energizing in its variety and somehow those two live in tension like a rubber band.
"Stopping that, getting off that relentlessness really will be quite new.
"I don't know what else I'm going to find myself involved in, the crucial thing is going to be a real change of pace and a different kind of lifestyle."
After the bishop steps down, his wife of 46 years, Lou, is looking forward to the change in lifestyle.
She said: "I shan't miss the hard work of trying to be manager, entrepreneur, sorter of events!
"We've got ideas of what we'd like to do, but we are determined that we're going to have six months without any more commitments. I think we need time to wind down, time to regain some energy and time to change gear."