Holland One submarine given engineering award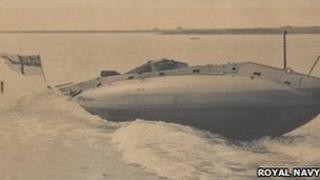 Holland One, the Royal Navy's first submarine, has been honoured with a heritage engineering award.
The craft has been recognised as an engineering feat by the Institution of Mechanical Engineers.
Admiral Sir Arthur Wilson, the then head of the Royal Navy, described it as "underhand, unfair and damned un-English."
Conservationists spent 18 years and £1m restoring Holland One, which is now in the submarine museum in Gosport.
It had 12 years of experimental service before being decommissioned in 1913.
Isobel Pollock, deputy president of the Institution of Mechanical Engineers and chairwoman of the heritage committee, said: "This was the vessel that dragged the Royal Navy into the modern era."
It was built at the Vickers Maxim shipyard in Barrow-in-Furness at a cost of £35,000.
Holland One sank off Plymouth during stormy weather while being towed to a scrap yard in 1913.
It was salvaged from the seabed after 68 years.