Isle of Wight prison security lapse 'let drugs in'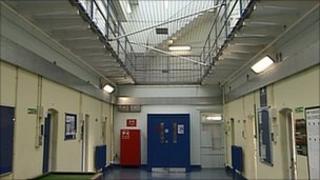 A "serious" security breach resulted in "huge quantities" of drugs and mobile phones entering a prison on the Isle of Wight, a report has revealed.
The security breach, at a mobile unit in Camp Hill, Newport, last year, has since been dealt with, inspectors said.
More than 100 "vulnerable spots" where prisoners could gain access to out-of-bounds areas were also reported at the site, now known as HMP Isle of Wight.
A Prison Service spokesman said ministers would consider the findings.
Nigel Hawley, chairman of Independent Monitoring Board, called the drug problem "horrendous".
It said drug debts and substance abuse had led to intimidation, bullying and violence at the prison and found that roof-top protests had been sparked by inmates who were scared of violence and wanted to be moved.
The board said it was concerned about the number of roof-top incidents at Camp Hill, resulting in specialist teams from the mainland being deployed at high cost.
HMP Isle of Wight officially opened last year after the merger of Camp Hill, Parkhurst and Albany prisons in 2009.
Last year officials foiled an escape by a convicted murderer who had used hidden codes in sudoku puzzles and written in "invisible" lemon juice.
'Jail unprotected'
A report by the prison's Independent Monitoring Board (IMB) said the merger had reduced budget costs but not without impacting on "every aspect" of the establishment.
Drugs are "freely available" and "literally dozens" of mobile phones have been seized from prisoners over the past year, the report found.
The main problem was recorded at category C prison Camp Hill, although Parkhurst and Albany were "far from drug and phone free".
Mr Hawley said it was "impossible" to eliminate the problem of drugs altogether.
"Drugs... create a violent and fearsome society, particularly with the weaker the more vulnerable prisoners who are forced into drug use or increasing their own drug use for the sake of those who run the little businesses in there," he said.
"It's certainly a great concern for most of the prisoners in there."
The board also reported it was "totally unacceptable" that a prison housing almost 1,700 inmates had only one dog handler with two dogs. Previously the dog team had the equivalent of five full-time and one part-time handler working with 11 animals.
It said the "drastic reduction" left the jail unprotected for a cumulative total of more than 130 days a year.
Foreign prisoners
The board has asked the justice minister to review the situation as a matter of urgency.
It said there needed to be "urgent attention" not only at HMP Isle of Wight but at other establishments housing foreign prisoners whose sentences had been completed but continued to remain inside awaiting deportation.
It commended a number of drug monitoring and rehabilitation teams for their work in trying to reduce drug and alcohol dependence.
Prison guards and the police were congratulated after foiling a planned escape by murderer Brian Lawrence, who communicated with accomplices using codes hidden in sudoku puzzles.
Lawrence had plotted to escape by helicopter from Parkhurst last summer using helicopter flights at the Isle of Wight Festival as cover.
A Prison Service spokesperson said: "We thank the Independent Monitoring Board at HMP Isle of Wight for their report, which will be fully considered by ministers.
"We will respond to the board in due course."