Fire wrecks two unfinished Southampton homes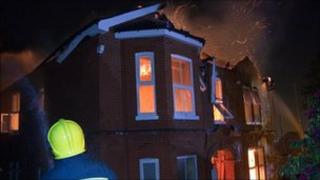 Sixteen people and two dogs were evacuated from their homes during the early hours after fire broke out in two unoccupied houses nearby.
Firefighters were called to Thorold Road, Southampton, at 0243 BST after a four-storey house, which was being renovated, and a terrace were alight.
More than 50 firefighters were called to blaze in the Bitterne Park area.
A joint police and fire investigation has been started into the cause of the fire, which is being treated as arson.
Some roads closed as a result of the incident are likely to remain so until the early hours of Wednesday.
Watch manager Shaun Cheeseman said: "We could see the flames coming up over the hill as we came over Cobden Bridge.
"On arrival the first building was well alight with burning embers showering the premises behind and neighbouring properties."
As well as extinguishing the main fires, crews had to clear hot embers that had covered nearby parked cars and dampen down a neighbouring house which was at risk of catching fire.
The house which was being renovated was severely damaged, while the neighbouring terrace property sustained extensive damage to the upper floors and roof.
Police are appealing for witnesses.