Emery Down phone box becomes community store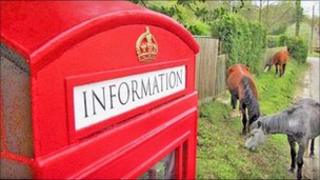 Residents in a New Forest village have come up with a novel idea for their redundant red phone box.
Rather than an empty space where the box once stood, villagers in Emery Down have converted theirs into a community kiosk.
The disused phone box now houses a book and DVD exchange library, vegetables and local information.
The telephone box in Silver Street was taken over by the community for £1 through BT's 'Adopt a Kiosk' scheme.
The kiosk will be stocked with surplus fruit and vegetables donated by villagers and an honesty box.
'Focal point'
After the phone equipment was removed, and shelving added, the outside of the kiosk was restored over the past three months by the villagers.
It is hoped the kiosk will be used by the rural community, passers-by and walkers to buy vegetables, use its book and DVD exchange library or learn about the area's history.
Resident Peter Power said: "The telephone was once the only telephone in the entire village. It was for many years a focal point for this community, connected to the post office opposite.
"In days past you had to ask the post mistress who lived and worked across the road to connect you before making a call anywhere."