Hampshire Sure Start petition taken to Downing Street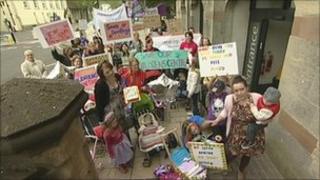 Campaigners fighting to stop plans to merge Hampshire's Sure Start children's centres have travelled to Downing Street to hand in a 22,000-signature petition.
Under the county council's proposals, 28 of the 81 centres, which offer support for parents, could be merged to save £6m.
The council said it hoped to keep all centres open but with fewer staff.
Parents are worried that the overall service will suffer.
About 50 of them travelled to London to hand in their petition, campaigner Kate Reynolds said.
She said: "It was central government taking away the ringfencing which put the decision in local government's hands.
"By delivering our petition to Downing Street it's demonstrating that although this is at the moment a local government issue, if central government were to bring back the ringfencing we wouldn't be in the situation we're in."
There are currently 81 separately managed children's centres in the county - though some "centres" are merely offices which organise activities in a various locations.
Some of them offer services from a number of different sites, such as village halls, community centres, libraries.
By restructuring some of the centre catchment areas and merging them, the Conservative-controlled council hopes to focus services on more deprived communities while reducing costs.