Tattooing returns to Portsmouth pier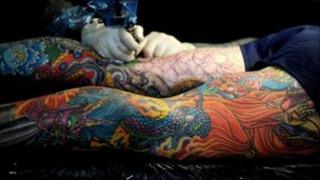 The organisers of a Portsmouth tattoo convention say the event is expected to attract 2,000 people to the South Parade Pier.
It is the first time the event has been held on the listed pier, parts of which date back 90 years.
The landmark, which first opened in 1879, once had a resident tattooist operating in a parlour.
The two-day event, will feature the intricate designs of more than 45 professional tattoo artists.
Organiser Reno Sammut said the social stigma attached to tattooing was disappearing and the industry was booming.
"The art has just rocketed and is now more popular than it's ever been," he said.
'Great skill'
The whole spectrum of the art is covered at the event from vintage pin-ups to portraits and oriental imagery.
Mr Sammut said tattooing was a great skill and a position of responsibility.
"A tattoo is for life and it's people's bodies they are messing with, not a bit of paper that can be chucked away."
The convention's venue has had an eventful life. It was destroyed by fire in 1904 and rebuilt in 1908 on cast iron supports.
Fire again struck the pier in 1974, during the filming of Ken Russell's "Tommy" and part of its superstructure had to be rebuilt.