Isle of Wight to be energy self-sufficient by 2020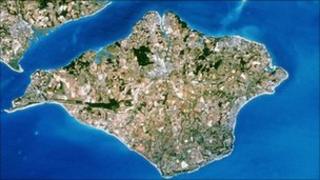 An Isle of Wight community group says it is aiming to make the island the UK's first energy self-sufficient and carbon neutral region by 2020.
The island, which is 23-miles long and 13-miles wide, annually draws 600GWh of electricity per year from the mainland.
The group Eco Island said power for the population of 142,500 could come from a waste to energy plant, solar panels and tidal and geothermal power.
The group also plans to export low-carbon power back to the mainland.
Eco Island founder, David Green said: "The island is taking some of its destiny back into its own hands."
Launched by the Isle of Wight council four years ago, and now community-led, Eco Island is co-ordinated by the Island Strategic Partnership (ISP), a representative group of organisations.
Its aim is to ensure the Eco Island strategy - which has been backed by a government minister - becomes reality by 2020.
'Bold ambition'
Richard Benyon, minister for the natural environment and fisheries, said: "The Eco Island is a very impressive and bold ambition which is being followed closely by the government.
"We will continue to monitor the sustainable community strategy to see what can be learned for communities elsewhere in the UK."
A "smart metering" system, which would tell householders exactly how much fuel they were using, would be rolled out throughout the Island.
Mr Green added: "Technology is part of this solution, combined with hearts and minds it can make a massive difference."
Community "green" ventures already in existence in the island include a distribution hub taking more than 300 local food products to shops and restaurants.
Many vehicles are run on bio-diesel produced on the island and sustainable transport in the form of electric bikes and cars are also in use.