New Berry Theatre arts complex opens in Hedge End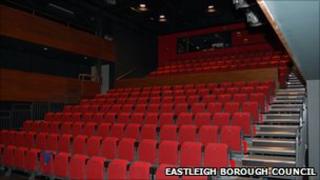 A new £4.7m theatre in Hampshire has been officially opened.
The 312-seat Berry Theatre, built in the grounds of Wildern School, Hedge End, also has a cinema screen and resident youth theatre.
It was mainly funded by Eastleigh Borough Council and a Partnership for Schools grant.
Director Sarah Brigman said: "It's exciting for the local community to have such a fine cultural facility."
Shared resources
Actor Sam West, Bafta-nominated for his role in the Merchant Ivory film Howard's End, will open the theatre at a gala event at 1800 BST.
The theatre will stage professional touring drama productions, workshops, live music and film screenings.
It also aims to provide training in technical aspects of theatre for young people interested in an arts career.
Despite the current climate of financial pressure on arts projects, Ms Brigman is upbeat about the theatre's prospects.
"I'm quite confident we'll meet our income targets. In these tough times, we need a bit of cheer more than ever," she said.
She added the complex would tap into demand in areas south of the M27 where theatre-goers would have had to travel to Eastleigh, Portsmouth and Southampton.
New jobs
The theatre has been jointly funded by Eastleigh Borough Council, which already runs the Point Theatre in Eastleigh, and many technical resources are being shared between the two venues.
It invested more than £3m, with Wildern School and Hedge End Town Council each adding £300,000 alongside a £700,000 co-location grant from the former government's Partnership for Schools fund.
Five new jobs have been created at the new theatre with a team of volunteers providing much of the front-of-house staffing.
Ms Brigman said: "Theatre can be transformational for audiences and it can help build communities. It's an opportunity to bring old and young together."