Fordingbridge father 'killed wife and two daughters'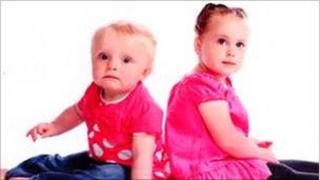 A man stabbed his wife and smothered his children before killing himself at their Hampshire home, an inquest heard.
Andrew Case, 33, was found dead along with wife Vicki, 31, and their two girls Nereya, one, and Phoebe, two, at their home in Fordingbridge in 2010.
He was prescribed an anti-smoking drug, which can have anger side effects, but no traces were found in his blood.
The coroner ruled Mrs Case and her daughters were unlawfully killed and Mr Case killed himself.
The hearing heard Mr Case was originally given 28 Champix anti-smoking tablets on 10 July last year and a further 56 tablets by a chemist on 23 July last year, the day the family had returned from a week-long holiday to Weymouth, Dorset.
The original prescription packet of tablets was found empty in the house and only 28 of the extra tablets were found.
'Heavy smoker'
Three days after the family returned from the holiday, Mrs Case was found lying on her back on the living room floor with the two girls on either side of her appearing to "embrace them", the Southampton inquest heard.
Mrs Case had died of "catastrophic" bleeding caused by two large knife wounds to her neck and chest and the two girls had probably been smothered, the inquest heard.
Mr Case was found hanging on the staircase of the semi-detached house, which was neat with no signs of disturbance.
Det Ch Insp Chris Fitchet said: "Andrew Case had been a heavy smoker and was keen to give up smoking which he had been trying to do for some time.
"Eventually he had been prescribed an anti-smoking medication by his GP, then on 10 July his medication was switched to a drug called Champix, an anti-smoking drug which I understand is quite powerful.
"His GP has told us the drug may have significant side-effects regarding anger and depression."
Home Office pathologist Dr Basil Purdue said a post-mortem examination did not reveal any traces of Champix in Mr Case's blood.
He said that 50% of the drug leaves the system each day meaning that Mr Case probably would not have taken the drug for "probably several days" before his death.
Mr Fitchet said that police investigations had not revealed any clear motive or "trigger" for the tragedy.
He said that there was evidence Mrs Case had had a "historic affair" but there was no suggestion this had anything to do with the deaths.
He said that although the couple had financial debts, they did not appear to be suffering any undue stress from this.
Coroner Keith Wiseman said that the evidence suggested Mr Case killed his wife and daughters on the Saturday night and killed himself on the Sunday evening.
He said: "We have the issue of the very powerful medication that Andrew was taking but no specific findings in his body.
'Financial pressures'
"The financial pressures were difficult but not necessarily more so than for any young couple.
"It's difficult to think of any sensible words at all to describe what would have appeared to have happened in a normal happy family environment."
Pfizer, which makes Champix, admitted some patients had reported suicidal thoughts while taken the drug.
But the firm said there was no evidence to support this link and added smoking itself and trying to stop smoking without medication has been linked to depressive symptoms.