Isle of Wight tourist information centres close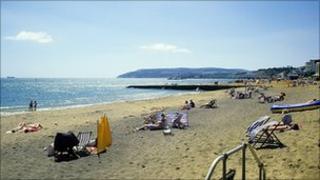 Six tourist information centres on the Isle of Wight are closing with the loss of 12 jobs.
Isle of Wight Council says cutting the centres in Newport, Yarmouth, Cowes, Sandown, Shanklin and Ryde will save £175,000 this year.
Centre worker Phillip Jelly said: "It's an extremely sad day. Let's not underestimate the specialist information these staff provide."
The council said it was focusing funds on promotions and website marketing.
Island tourism
The Isle of Wight attracts 2.6 million visitors a year, injecting £350m into the local economy.
Mr Jelly said: "The staff know the island inside out - walks, attractions, hotels and buses.
"After today all this knowledge will be lost or, at least, will not be available in one place."
The Conservative-controlled Isle of Wight Council is looking to save £32m over the next four years following central government's deficit reduction measures.
In a statement, the council said it would still be spending £500,000 on attracting visitors to the island through the Island Breaks website.
It said: "This represents a major financial commitment to the tourism industry at a time when the council is required to make significant cuts across most areas."
It added the job losses were "regrettable" but welcomed the Southern Vectis bus company's plan to introduce a network of visitor information points around the island.