Southampton City Council gets £300,000 arts funding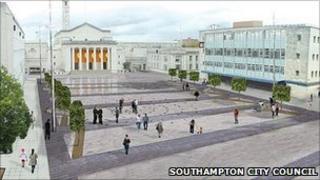 The arts in Southampton is to receive £300,000 from the Arts Council despite other organisations in Hampshire having their funding cut.
Of 11 currently funded groups, three will receive no future funds, six will see cuts taking inflation into account, while two will see large increases.
Southampton City Council will now receive nearly £300,000 over three years from 2012 for arts projects.
It has not had Arts Council funding in the last couple of years.
More than 200 organisations nationally that received regular funding from Arts Council England (ACE) have missed out after "a series of painful decisions".
Mela festival
ACE had its budget cut by £100m, or 30%, in October's Spending Review.
Groups in the county that will receive no further funding from 2012 are Forest Forge Theatre in Ringwood, ArtSway in the New Forest and Eastleigh-based Hampshire Dance.
The six groups with reduced funding are Southampton's Turner Sims Concert Hall, John Hansard Gallery and Nuffield Theatre, The Anvil in Basingstoke, Southampton-based Art Asia and the Aspex Visual Arts Trust, based in Portsmouth.
Art Asia has been hardest hit with a 63.2% cut in its budget - a £130,000 reduction in its £287,315 annual income.
The cut came despite 27,000 people attending last year's Southampton Mela festival.
Turner Sims Concert Hall and John Hansard Gallery both received more money but, taking into account current and expected rates of inflation, the real value is a decrease.
The Winchester Hat Fair and New Theatre Royal, Portsmouth, will see substantial funding increases.
£21m arts complex
Sally Abbott, the Arts Council's regional director in the South East, said Southampton City Council was important for "regeneration and making sure Southampton is able to attract audiences to see great work".
She described it as "a real success story".
Councillor John Hannides, for leisure and culture at the Conservative-run city council, said the £300,000 would be used to attract audiences prior to the opening of Southampton's £21m arts complex, which is being part-funded by ACE.
But John Denham, Labour MP for Southampton Itchen, has spoken against cuts to the city's other arts groups. He said Art Asia made "a huge contribution to cultural life in Southampton".
Lucy Attrill, of Art Asia, said the organisation would "feel" the 63% cut but added: "We can't be pessimistic."
Kirstie Davies, artistic director of Forest Forge Theatre, which also lost out, said after 30 years the group "may well not have a future".
The new Arts Council funding plan is introduced in April 2012.