Call for routine prostate cancer screening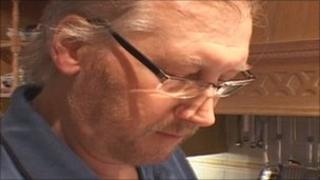 For 59-year-old Philip Smith, the prostate cancer he was diagnosed with three years ago has proved to be terminal.
He knows he will join the 10,000 men that the British Association of Urological Surgeons (BAUS) say die every year from prostate cancer in the UK - the equivalent of one per hour.
Mr Smith is calling for a routine screening programme for the condition, which he believes would have saved his life.
The NHS' national screening committee rejected the idea in December 2010.
More than 36,000 men are diagnosed with prostate cancer every year in the UK.
Extreme mood swings
Mr Smith is one of many men whose diagnosis came too late for a cure.
The photographer from Basingstoke is currently undergoing chemotherapy that has thinned and greyed his hair and causes extreme mood swings.
"You find out you have no future any longer. It's been taken away from you. Your hope, your dreams, everything's gone," he told the BBC.
"You're just numb. You just go into silence. You just think of the word cancer."
But Mr Smith's call for a national routine screening programme is controversial.
A major European trial released in 2010 showed one in eight men who were screened tested positive for the condition when, in fact, they did not have the disease.
Meanwhile some men with the disease were given the all-clear.
The European Randomised Study of Screening for Prostate Cancer carried out its trial in seven countries.
BAUS is concerned about the distress such false diagnoses could cause patients.
They also warn about the long-term health effects that come with the risk of unnecessary treatment.
The NHS believes the current test for prostate cancer - a blood test known as a PSA - is not reliable enough for a national screening programme.
When the NHS screening committee rejected routine nationwide testing, they said 48 men would be wrongly told they had the cancer for every life saved.
New urine test
Consultant neurologist Christopher Eden at Royal Surrey County Hospital is in favour of a national screening programme. But he acknowledges that the PSA is "not particularly sensitive or specific".
Results have to be checked with a biopsy, an invasive procedure that tests tissue from the affected area.
But Dr Eden is certain the potential benefits of screening outweigh the problems, adding that if the cancer was caught early then patients required "less radical treatment".
He highlighted new studies from Sweden and America showing fewer misdiagnoses.
His team at the Royal Surrey County Hospital is also developing a new urine test. Cancer Research UK has welcomed the findings, but says more work is needed.
Mr Smith said he was angry the NHS already screened for breast cancer, a condition he said received more publicity than prostate cancer.
Dr Eden agrees male cancer should receive more funding but acknowledged women were more vigilant about their health.
He warned men may experience no obvious symptoms in the early onset of prostate cancer and should make sure they are checked.