Southampton and Liverpool in cruise ship row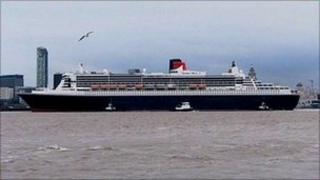 A "last stand" meeting is taking place to discuss Liverpool's bid to rival Southampton as a terminus for cruises.
Councillor Royston Smith, leader of Southampton City Council, is talking to Transport Minister Mike Penning ahead of a government decision.
A new terminal in Liverpool was partly paid for by an EU grant, which amounts to "state aid", argues Southampton.
A final decision on Liverpool's plan, which needs government approval, is expected to be made within weeks.
Mr Smith said: "We will make a last stand at this meeting. It's vital our voice is heard.
"The Port of Southampton has positioned itself as the cruise capital of northern Europe by means of private investment. Liverpool must do likewise.
"I will do my utmost to convince Mike Penning that if Liverpool wish to compete with Southampton they should repay their public subsidy and compete on a level playing field."
Previously rejected
The government is taking a new look at Liverpool's application, which had previously been rejected.
It needs to approve the plan because a £9m EU grant helped pay for its cruise liner terminal, which cost £20m.
Mr Penning previously said he wanted to "maintain a level playing field across the UK cruise industry".
Currently cruises can call at Liverpool but not start or end journeys there.
Liverpool City Council said between 25 and 40 liners could be expected in the city each year if the plan went through.
This was about 4-6% of the market, which was worth between £6.6m and £10.6m, a spokesman said.
Labour's Itchen MP John Denham last month met Associated British Ports (ABP), which runs Southampton's port, over the "unfair competition" of Liverpool's bid.