Velodrome wood to be used in Olympic boat project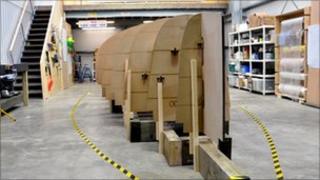 Leftover wood from the Olympic velodrome is to be used to help build a nine-metre (30ft) boat as part of a nautical art project.
Unwanted pieces of timber from the track will be used to build the boat along with items including paddles, spoons, drum sticks and house signs.
A professional skipper will lead the voyage but the crew will include some people picked from a public nomination.
They aim to sail to the Olympic Park from Emsworth, Hampshire in May 2012.
The month-long maiden voyage along the south east coast will see the boat call in at four locations, before sailing up the Thames in July.
The Boat Project is set to be a main focus of four arts festivals along the south coast in the run-up to the London 2012 Games.
The craft is being built by Mark Covell, a Portsmouth boat builder and Sydney 2000 silver medallist in Open Star Sailing, along with Lymington yacht designer Simon Rogers.
A spokesman for the Boat Project said: "The wood from the velodrome will join an extraordinary array of donated objects including tennis rackets, rulers and a light box from the Ark Royal, to become a beautiful boat - and a living archive of people's stories and lives."
The boat, which is being built at Thornham Marina, Emsworth, is one of 12 public arts projects funded by Arts Council England to celebrate the London 2012 Cultural Olympiad.
Anyone who wants to donate a piece of wood to the boat can bring it to Thornham Marina at weekends, or to a series of donation days across the south east region.
Moira Sinclair, Arts Council England's executive director for London, said: "What's really great about this project is how it's literally bringing together sport, art and local communities, which was always an ambition of the ancient Olympics."