Warhol's Elizabeth Taylor projected in tribute to star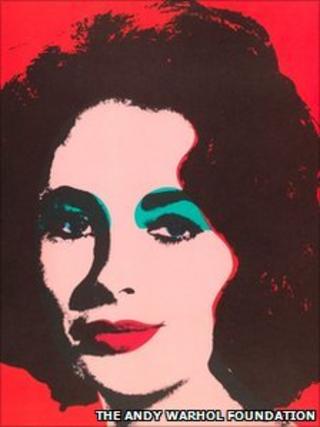 A vibrant image of actress Elizabeth Taylor will be projected onto a building in Southampton as part of a new Andy Warhol exhibition.
His 1965 portrait of the star, who died on Wednesday, will be cast at night onto the Skandia building.
It is part of an exhibition of more than 200 works by the American pop artist at two galleries in the city.
It includes 20 original paintings, the largest being the "Camouflage" which is over seven metres (23ft) long.
The image of Taylor will be screened onto the building in Portland Terrace for four weeks.
Southampton City Council's Alice Workman said: "This is one of Andy Warhol's most iconic images.
"Elizabeth Taylor was a true Hollywood giant and given the artist's fascination with celebrity, this couldn't be a more fitting tribute to her."
The collection explores the artist's fascination with fame and celebrity and covers his work from 1951 until his death in 1987.
Warhol 'Factory'
Hosted in the City Art Gallery and the John Hansard Gallery for three months, the exhibition highlights the range of mediums used by Warhol, including paintings, prints, posters, photographs and film.
Stephen Foster, John Hansard Gallery director, said: "Warhol's impact on modern culture is immeasurable. The themes of his work are as relevant today as they were half a century ago."
A Warhol-style 'Factory' - the name of his silver-painted New York studio - will become an activity space in the City Art Gallery for young people and families during the exhibition.
The exhibition has been organised through the Artist Rooms initiative by the Tate and National Galleries of Scotland to bring art to new audiences.
Art collector, Anthony d'Offay originally acquired the collection before donating it to the Tate, to ensure that it would always remain in the public domain.