Hampshire rescue pig had been fed bacon sandwiches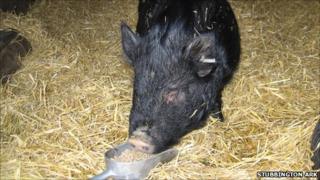 A pig has been rescued after his previous owners fed him on a diet of bacon sandwiches and roast dinners.
Eight-month-old Ollie had been bought as a micro-pig but grew too big and had been kept in the back garden of his former home in Gosport, Hampshire.
He started to suffer a skin condition and was taken to Stubbington Ark rescue farm where he is being cared for.
Animal care assistant Kate Jackson said: "I just don't think they knew what to feed him."
Ollie will join the centre's other pigs before being rehomed.
Staff are feeding him on a healthy diet of bananas and pig nuts which have started to improve his skin.
Miss Jackson said: "Pigs will eat whatever you give them.
"The previous owner called us because she couldn't cope with him any more.
"She gave it bacon sandwiches, roast dinners and things that pigs shouldn't really eat.
"Pigs are for farms, not for back gardens."