HMS Endurance set to be replaced by Norwegian ship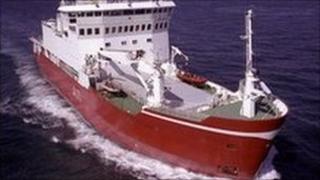 The Royal Navy's ice patrol ship HMS Endurance is to be replaced with a Norwegian ship, it has been announced in the House of Lords.
The Portsmouth-based ship almost sank in 2008 when it was flooded after a maintenance error off Chile.
Defence Minster Lord Astor said the new ship, to be called HMS Protector, will be leased for three years while HMS Endurance's future is considered.
HMS Protector is due to arrive in May to be fitted out ahead of a deployment.
Lord Astor said a contract for the lease was expected to be signed soon with GC Rieber Shipping - the government's preferred bidders.
Fifteen civilians were airlifted to safety from HMS Endurance when it was flooded in 2008.
The Ministry of Defence report said it was a "near loss" incident and "clarity of command" had been lost when the engine control room flooded in 2008.
Failures to identify "cumulative risk" factors were highlighted including lack of training, manpower and equipment.
The ship's mission is to patrol and survey the Antarctic and South Atlantic.