Stranded cargo vessel off the Isle of Wight pulled free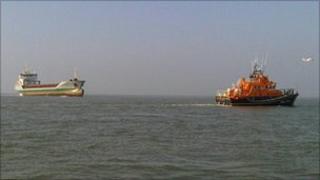 A cargo ship which ran aground off the Isle of Wight on a shingle bank with nine crew on board has been freed.
The Paula-C got into difficulties near the Needles on Sunday afternoon during the lowest tide of the year.
The 295ft-long (90m) ship was assisted by a tug at about 2125 GMT to break free and spent last night in anchorage in the western part of the Solent.
A survey was carried out on the ship which found it did not sustain any serious damage.
The Martime and Coastguard Agency (MCA) said there had been a big tidal range recently because of the proximity of the moon, which may have been a factor in the grounding.
The crew pumped out some of the water ballast in a bid to make the ship lighter.
No-one was injured.