Ryde Pier re-opens with toll after repair work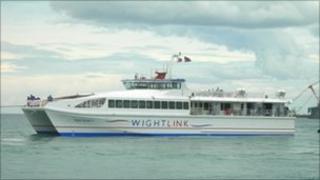 Ryde Pier on the Isle of Wight has re-opened to vehicles after £5m repairs.
The 197-year-old pier, from which Wightlink ferries to Portsmouth operate, failed a routine maintenance check in July 2010.
The company said it had "no option" but to impose a £1 toll per motor vehicle to help meet the costs of the repairs.
However Ryde taxi driver Andrew Younie said: "Ultimately it will increase costs."
Rusted beams
Sean Millward, Wightlink route manager said: "It is a great relief to have Ryde Pier up and running again."
Last year an ultrasound examination revealed some of the pier's steel beams had rusted through.
Steel girders and wooden planks running the length of the 660m (721 yard) pier have since been replaced.
Two historical shelters on the Grade II listed structure have also been renovated.
More car parking spaces have been provided and a number plate recognition system has been fitted in a bid to keep car speeds below 10mph.