Portsmouth man jailed for publishing 'terror handbook'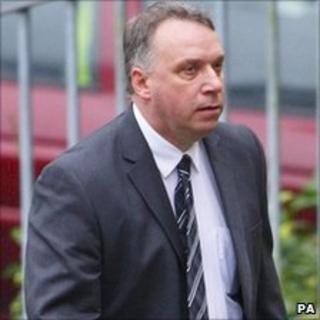 A man has been jailed for three years for publishing a "terrorist handbook" that explained how to make bombs.
Terence Brown, 47, of Portsmouth, made CDs at his home containing thousands of pages of information on topics such as "how to make a letter bomb".
He said he only made them to make money but he was convicted of nine terrorism-related charges and a further count relating to the proceeds of crime.
Brown, who had denied the charges, was jailed at Winchester Crown Court.
Sentencing, Mr Justice Blair said: "You were wholly reckless as to how the material you provided was understood and used.
'Incredibly cynical'
"Motivated only by money, you acted in what can only be described in a completely irresponsible way.
"Furthermore your use of the 7/7 bombing as a marketing tool, and the downloading of a very large amount of new material and the selling of the so-called 'limited edition' within literally days of these events, is not just irresponsible, it's incredibly cynical."
During the three-week trial, the court heard that Brown set up a website based on the 1970s book the Anarchist's Cookbook, selling CDs containing information compiled from an al-Qaeda training manual, the Mujahideen Poisons Book and other sources.
He told the jury he never thought the information would be used by terrorists and had only done it to make money.
The venture, run from Brown's terraced home in Portsmouth, was estimated to have generated tens of thousands of pounds.