Final farewell for decommissioned warship HMS Ark Royal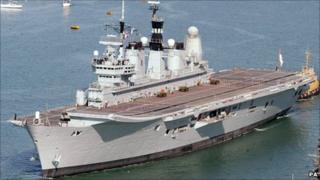 The aircraft carrier HMS Ark Royal has been decommissioned at a ceremony in its home base of Portsmouth.
The warship was scrapped after 25 years' service as part of the government's defence budget review.
The move leaves the Navy without the capability of launching fixed-wing aircraft until replacements come into service at the end of the decade.
The ship's white ensign was lowered for the last time at a special ceremony as Auld Lang Syne was sung.
The vessel's last remaining 150 sailors took part in the event in front of about 900 guests, including families and former commanding officers.
The sailors on the deck were told by the parade commander: "Ark Royal, for the last time, dismissed."
Cpt Jerry Kyd, the last Commanding Officer of HMS Ark Royal, said the aircraft carrier had played a "very important role" as part of the Navy's history.
"For me, personally, I have been exceptionally proud to serve as her captain - my very first job after finishing my initial officer training 25 years ago at Dartmouth was in the then brand new HMS Ark Royal.
"It is therefore a great honour for me to have been her last captain."
The plans to cut the defence budget and scrap the Ark Royal four years early have been criticised by Labour.
Shadow defence secretary Jim Murphy said: "Ark Royal has been decommissioned and Illustrious is in for major refit.
"At the same time, ministers are flogging off navy ships and can't secure contracts for the new frigates they promised.
"In a world of enormous uncertainty serious people are asking big questions about Britain's military capabilities and ministerial complacency."
But Defence Secretary Liam Fox said the review was based on maintaining an "adaptable" defence posture and this was right given the "unpredictable" nature of future threats.
Ark Royal was built at the Swan Hunter ship yard in Wallsend, North Tyneside, in December 1978 and launched by the Queen Mother.
She also accepted it into service in July 1985 and it was commissioned in November of that year.
The Queen bade farewell to the Royal Navy carrier at a ceremony in November last year.
Capt Kyd, who now commands sister ship HMS Illustrious, added: "I am only too aware that this famous ship and her iconic name mean a great deal to many people.
"Although Ark Royal will be decommissioned, the new Queen Elizabeth Class aircraft carriers are vastly more capable and will provide the Royal Navy with an exciting future."
Ark Royal's operations have included leading the UK's naval forces during the invasion of Iraq.
The current ship is the fifth vessel to carry the name and has clocked up 621,551 nautical miles during its career.
The first Ark Royal saw battle in 1588, smashing the Spanish Armada.