Portsmouth man guilty of publishing 'terror handbook'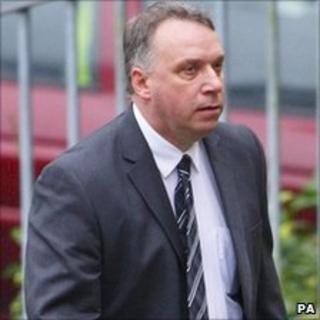 A man has been found guilty of publishing a "terrorist handbook" that explained how to make bombs.
Terence Brown, 47, of Portsmouth, made CDs at home containing thousands of pages of information on topics such as "how to make a letter bomb".
He was found guilty at Winchester Crown Court of nine terrorism-related charges and a further count relating to the proceeds of crime.
Brown, who denied the charges, has been bailed until sentencing on Friday.
During the three-week trial, the court heard that Brown set up a website based on the 1970s book - the Anarchist's Cookbook - selling CDs containing information compiled from an al-Qaeda training manual, the Mujahideen Poisons Book and other sources.
He told the jury he never thought the information would be used by terrorists and had only done it to make money.
The venture, run from Brown's terraced home in Portsmouth, was estimated to have generated tens of thousands of pounds.
Brown was found guilty of seven counts of collecting information that could have been used to prepare or commit acts of terrorism under the Terrorism Act 2000.
He was also found guilty of two counts of selling and distributing the information under the Terrorism Act 2006 and a further count under the Proceeds of Crime Act.