Alcohol warning classes for Portsmouth pupils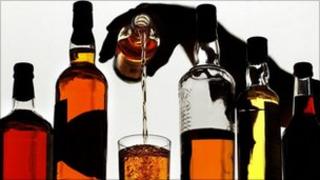 Primary school children could be taught about the dangers of alcohol misuse as part of attempts to tackle Portmouth's drink problem.
Civic chiefs agreed to look into the move as they approved plans which could enforce minimum pricing and a late-night levy on licensed premises.
It comes after a report found 40,000 people in the city drink too much.
An outright ban for council staff drinking alcohol during the day was rejected as it was deemed unnecessary.
The council said it would instead offer support to staff who needed it.
Hospital admissions
Portsmouth has the worst record for alcohol-related hospital admissions in south east England.
The report, by the council's health overview and scrutiny committee, was the result of a year-long project looking into alcohol misuse across city.
It found that 7,000 people were dependent on alcohol.
Although children as young as eight are taught about the dangers of substance misuse, the panel said it wanted a "clearer focus" on alcohol perceptions from a younger age.
Councillor Lynne Stagg, chair of the health committee, said there needed to be provisions in place.
"At the moment it is costing a lot of money to deal with the problem of people who are excessively drinking," she added.
"We need to tell youngsters what actually happens to their bodies as a result of alcohol misuse."
Other measures include passing a by-law which could enforce minimum pricing on alcohol which could mean a ban on the selling of alcohol at less than 50p and sending patients in hospitals a letter telling them how much their treatment for alcohol-related conditions has cost the NHS.
As part of current plans to tackle alcohol misuse, the council employs a substance misuse co-ordinator and has begun a campaign to target men aged 35 and over.
However the council's research has shown that hospital admissions have increased by 59% since 2002.
Ms Stagg said the panel did not have a firm answer as to why the city has such high levels of alcohol dependency.
"We have got a university with a population of 20,000 people and the Navy is based here so it's not just Portsmouth people, people also come in from across the water from Gosport, people come here to the nightclubs," she added.
The panel said it had wanted the council to "set and example" by introducing a ban on alcohol at the council, except during mayoral events.