Winchester Cathedral celebrates new structure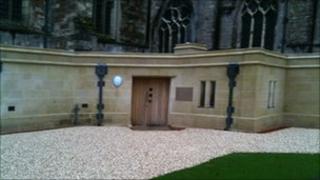 Winchester Cathedral has opened its first addition in 500 years.
A purpose-built extension has been attached to the eastern corner of the existing building, which is the longest medieval cathedral in Europe.
It took the cathedral's stonemasons a year to construct the limestone attachment, which will provide storage, a new boiler and its first toilets.
The £820,000 needed for the work was raised by the Friends of Winchester Cathedral.
The building was opened by the Abbot of Fleury from L'Abbaye de St-Benôit-sur-Loire in France who has been installed as an Honorary Canon.
Journey of faith
Dean of Winchester, The Very Reverend James Atwell said: "This is a moment of history. It is very exciting for us that the Abbot of Fleury will be our first Ecumenical Canon.
"Following on from the Pope's visit nationally, it is evidence of the respect with which we hold one another and the acknowledgement of our shared journey of faith."
The link between Winchester Cathedral and the Abbey of Fleury goes back to 1978, when the then Dean of Winchester, Michael Stancliffe, and the Abbot of Fleury decided that the Anglican cathedral and the Benedictine monastery should be united in prayer.
The cathedral and the abbey pray for each other every day. There are also regular exchanges between the two communities - including trips by the cathedral choir.
The cathedral sits on the site of an early Christian church. The building began its growth in the 10th Century, gradually expanding to today's prominent landmark.
In the early 1900s, huge cracks started to appear. There were fears that the east end of the building would collapse, after centuries of subsidence.
Deep-sea diver, William Walker, worked under water in total darkness for six years placing bags of concrete to stabilise the building.