Terror 'cookbook' writer from Portsmouth driven by cash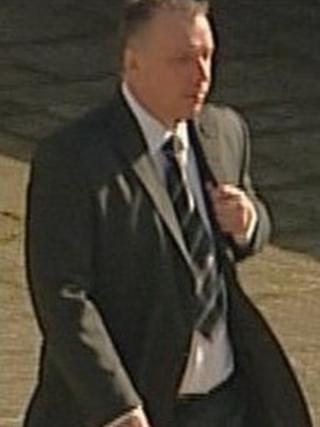 Terence Brown had no motive behind making his digital terror manual other than to get rich quick.
He had no terrorist sympathies or political ideologies - he was simply in it for the money.
His handbook, The Anarchist's Cookbook, took the form of two CDs that could be ordered from his website for US $35 (£24) a time.
They included information from the al-Qaeda training manual, and made him tens of thousands of pounds.
Prosecutors said it was the largest haul of terrorist information ever found in the UK and, among other things, explained how to make a letter bomb.
Hampshire Constabulary said it had no doubt his money-making plan could have been used by "persons intent on terrorist activity".
Earlier, Brown, 47, of Whitworth Road, Copnor, Portsmouth, was found guilty at Winchester Crown Court of seven charges under the Terrorism Act of collecting information that could have been used to prepare or commit acts of terrorism.
He was also found guilty of two charges of selling and distributing the information under terror laws, and a further charge under the Proceeds of Crime Act.
He was allowed to change his plea to "not guilty" in September 2010, after earlier admitting seven of the charges.
Brown's website, which he used to sell the manual from his unremarkable terraced home, has since been removed from the internet by police.
The selling of his "cookbook" went on from behind the net curtains for five years between 2003 and 2008.
Brown pulled together information from a variety of sources to make his CDs, which contained thousands of pages of information.
As well as the al-Qaeda advice, the CDs included extracts from the Mujahideen Poisons Book and instructions on how to build improvised explosive devices.
Neo-Nazi
But despite Brown's profitable business, the Crown Prosecution Service (CPS) said it "doesn't know of any cases" in which people have been prosecuted for having the terror manual in their possession.
But that is not to say criminals have not found other, similar, material.
Last May, a neo-Nazi from County Durham was jailed for 10 years for producing a chemical weapon, preparing for acts of terrorism and having terror handbooks.
Ian Davison, then 41, had made the poison ricin in his home and plotted to overthrow the British government.
His then 19-year-old son was also convicted of possessing material useful for acts of terror, and was detained for two years at a young offenders' institution.
Among the pair's terror guidebooks was a copy of a 1971 book, the Anarchist's Cookbook, a different piece of work than that of Brown's CDs of the same name.
The judge in that case, Judge John Milford, expressed surprise that the 1971 book was available to buy on the internet and asked the authorities to look into it.
Yet Brown's defence was that terrorists would not pay for such material - he claimed it was widely available for free on the internet.
Penniless
He said to order his manual you needed an e-mail address, credit card and address and terrorists simply would not give out this information.
Terms and conditions on his website also told potential terrorists not to order the manual.
He said he was in debt and his only motive was the money.
But prosecutors said he sold several thousand of the CDs worldwide, meaning there was a market somewhere for the material that made Brown a substantial amount of money.
Detectives have attempted to track down some of them but the location of many still remains a mystery.
Brown is now penniless and has county court judgements against him.