Crow cull plan to save songbirds sparks controversy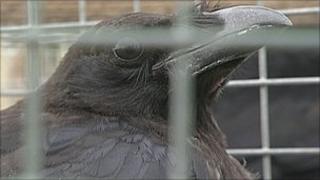 Plans to cull crows and magpies to test if they are contributing to a decline in songbird numbers have caused a disagreement between conservationists.
The Game and Wildlife Conservation Trust (GWCT), based in Fordingbridge, Hampshire is planning a limited trial of legally trapping or shooting predator birds.
Numbers of skylarks and lapwings have declined by more than 50% in 30 years.
However the RSPB said a cull for research was "the wrong thing to do".
The GWCT is planning to trap or shoot crows and magpies in one area, leaving another untouched, to measure the impact of the birds.
The trust insists the research is necessary to discover the reasons behind the declining numbers of farmland birds.
Robbed nests
Its director of research Professor Nick Sotherton said: "We are doing a limited removal experiment to try and get some scientific answers. Then you can design policy based on fact."
"Birds are declining here quite seriously, despite money invested in habitat management and improvement for 30 years," he added.
Tim Butler, a farmer from Selborne in Hampshire, said he was certain crows and magpies were having a detrimental effect on songbird numbers as they robbed nests of eggs and young chicks.
He said: "The habitat we've got is ideal for nesting birds, but it is also wonderful for the predators.
"We are fighting a losing battle trying to keep the balance of numbers right - so we're not seeing as many songbirds as we would have hoped," he added.
However the RSPB criticised the planned research cull, saying the underlying cause of songbirds' population decline is more likely to be a lack of habitat or food.
South east public affairs manager Paul Outhwaite said: "Money could be better spent on more detailed field studies into the relationship between songbirds and predators, rather than an experiment to see if killing birds can solve the problem."