World War II bomb blown up in New Forest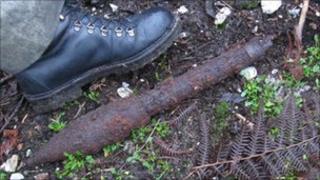 A WWII explosive device found by a walker in the New Forest has been blown up by bomb disposal experts.
The bomb, thought to be an American shell, was discovered on Ibsley Common, Hampshire, on Wednesday by Trevor Vaughan after he sat down to rest.
He said he put his compass down and noticed the needle swinging wildly.
He said: "I saw there was a little crater and I scraped away at the sandy earth, and there it was." A Navy bomb disposal team exploded the device.
After finding it at Newlands Plantation on the common, Mr Vaughan called the National Trust, who notified the police.
Ian Bradwell, the trust's area warden for the New Forest, said: "The device was in a remote part of the common.
"But we weren't taking any chances. We blocked off the tracks while the disposal unit dug a hole round it, sandbagged the area and blew it up."
Mr Vaughan, who lives at Poulner near Ringwood, said he had been walking across Ibsley Common for about 60 years, since he was a boy.
He said: "I did hear that an American aircraft came down around here during the war. Maybe it was something to do with that."