New £15m Southampton Titanic museum gets time capsule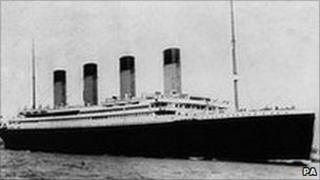 A time capsule has been buried beneath concrete at the site of a new £15m Titanic museum in Southampton.
The Sea City Museum will open in 2012 - 100 years after the liner embarked on its ill-fated maiden voyage from the city to New York.
The development, at the former magistrates' court, is due to be the focal point of a new cultural quarter.
Among items in the capsule is a ticket from Southampton Football Club's FA Cup tie with Manchester United on Saturday.
Other items include photos of the city on a USB stick, event guides and newspaper front pages.
The museum has received £4.9m from the Heritage Lottery Fund towards the £15m costs.
'Great pride'
In February 2010, councillors scrapped controversial plans to sell art from the city's collection to help raise the funds needed.
The council will instead fund the project by selling other assets and through short-term borrowing.
Councillor John Hannides, the city council's cabinet member for leisure, culture and heritage, said: "Items symbolising Southampton today will go down in history forever in the time capsule and will be a good commemoration for hundreds of years to come.
"This museum will not only give residents great pride and attract thousands of visitors - it has also helped gained millions of pounds in investment for the Cultural Quarter."
The Titanic sank in the Atlantic Ocean in April 1912, with the loss of 1,523 lives.
Of the crew, 724 lived within the Southampton area - only 175 returned home to their friends and families.