Southampton hospital cleaners go on strike over pay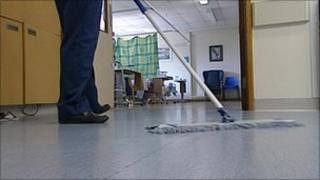 Hospital cleaning staff in Southampton have walked out for the third time in a dispute over back-dated pay.
The protest, organised by the public sector union Unison, had been timed to coincide with a hospital board meeting.
About 250 union members are expected to stand on picket lines at all entrances until 1800 GMT, following a previous two-day strike in December.
The hospital said its contract cleaners would be on the same pay and conditions as NHS-employed staff by April.
Health chiefs added that domestic staff had been paid sick pay since October 2010 after the trust increased contributions, which had also been backdated to May.
But unions claim this should have been backdated to 2006.
Members of the health trust's board attended a scheduled meeting at the hospital in Tremona Road.
'Robust plans'
Andy Straker, regional organiser for Unison, said health bosses needed to "start listening" if the dispute was to be resolved.
"They will all have to cross picket lines set up by their cleaners who are furious with them for withholding money that should have been paid to them in 2006," he said.
"The trust board members must realise how angry the cleaning staff are over this issue."
Cleaning services at the hospital have been provided by staff working for the contractor Medirest since the late 1990s.
The trust said it had agreed to provide funding to "uplift" both the pay and the terms and conditions of its cleaners to NHS level.
Steve McManus, chief operating officer, said: "The trust and Medirest have set in place robust plans to ensure our hospitals remain clean during strike action."