Portsmouth's water damaged library reopens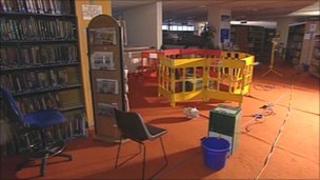 A library damaged after vandals flooded the toilets has reopened after a refurbishment.
Water cascaded through Portsmouth Central Library in August 2010, forcing the council to close the building for five months.
The water is believed to have come from the third-floor toilets of the building in Guildhall Square.
Crime author Graham Hurley officially opened the refurbished building at 1000 GMT.
Books, including first editions by world-famous authors Charles Dickens and Arthur Conan Doyle, who both lived in Portsmouth, were undamaged but water caused electrical damage.
The second floor of the building now houses the city's Arthur Conan Doyle archive and the Portsmouth History Centre.
The first floor has been turned into a reference and information area, with foreign language collections and free internet terminals.
Lindy Elliott, library services manager, said: "Although the flood was regrettable, the closure has provided an exciting opportunity to bring forward a range of projects, which will make the space easier to use and more attractive for our customers."