Cowes Week unveils Aberdeen Asset Management as sponsor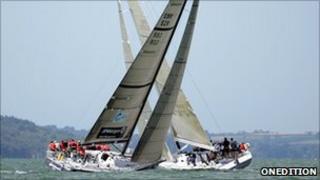 The Cowes Week sailing regatta has announced Aberdeen Asset Management as its new title sponsor.
The event had been without sponsorship since its 14-year deal with Southampton-based finance company Skandia ended in 2008.
The seven-figure deal will run for an initial term of three years. Entry fees will be cut for this year's regatta.
The annual event in August draws crowds of 100,000 to the Isle of Wight.
The global investment management group previously backed the University Boat Race for six years and currently sponsors Dragon class yachting.
Cowes Week Ltd chief executive officer Stuart Quarrie insisted the event's survival had never been threatened by the lack of sponsorship.
He said: "We always had a balanced budget and could have carried on indefinitely.
"But it will enable us to really take Cowes Week to the next level and progress it how we want to over the next few years."