Lord Nelson and Lady Hamilton locket sells for £44,000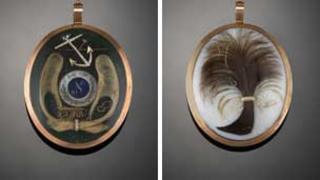 A rare artefact linked to Admiral Lord Nelson and Lady Emma Hamilton's famous love affair been auctioned for £44,000.
The late 18th Century gold locket pendant is thought to contain a lock of Nelson's hair on one side and Lady Hamilton's on its reverse.
It was bought by London jewellers Sandra Cronan on behalf of "an important collector."
It had been found in a cupboard by an Australian couple clearing a house they had inherited in Portsmouth.
A spokesperson for Salisbury auction house Woolley and Wallis said several keen phone bidders from around the world had pushed the price up.
Scandalised society
Auctioneer Jonathan Edwards described the locket as "beautifully made and very significant."
It is marked with a capital N, a naval anchor and the date of August 1798 - when Nelson achieved victory at the Battle of the Nile.
After the battle, Nelson stayed with the British Envoy in Naples, Sir William Hamilton and began a relationship with his wife Emma which scandalised society at the time.
Mr Edwards added: "The early date and decoration suggests that it is not a memento mori but a presentation gift to an admirer or associate whilst they were both in Naples and before their return to England together in 1800.
"If such, it is a unique relic of an enduring love affair."