Portsmouth councillor in imam prayer protest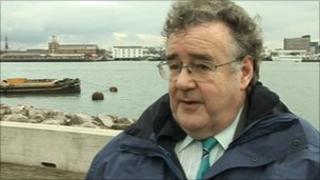 A Portsmouth councillor walked out of a council meeting because an imam was asked to deliver an opening prayer.
Conservative councillor Malcolm Hey left Tuesday night's Portsmouth City Council chamber while Sheikh Fazle Abbas Datoo was speaking.
The imam, from the Al Mahdi mosque in Wickham, had been invited by the city's lord mayor Paula Riches.
Mr Hey said it was not appropriate for a Muslim to deliver prayers at the start of a full council meeting.
His behaviour was heavily criticised by Muslim community group Wessex Jamaat, which said snubbing the imam by walking out was "a serious issue".
'Different god'
Mr Hey, who sits on the Portsmouth Standing Advisory Council for Religious Education, rejoined the meeting straight after the prayer.
Gerald Veron-Jackson, leader of the Liberal Democrat-controlled council, has written to Conservative Party chairman Baroness Warsi calling for the councillor to be excluded from the party.
"Not only were [his] actions hugely disrespectful to the lord mayor and to the imam, but also to the whole of the Muslim community," he added.
Mr Hey, ward councillor for Copnor, is a founder member of the Grace Baptist Church in Copnor Road.
"In a letter, and without any consultation, the lord mayor invited, and will invite, other religions to take part and I was not happy with that," he said.
"I'm a Christian, not a Muslim, and I do not believe we are praying to the same god.
"I think we have a tradition of Christianity in this country, our legal system is based on that, and most of our official meetings have some Christian prayers or worship as part of that event.
"I do not think at this point in time it's reasonable to change our history and have, say, some Muslim tradition brought into that environment."
Yasin Rahim, of Muslim community group Wessex Jamaat, said: "It was our imam who Malcolm snubbed by walking out.
"I think this is a serious issue here. The imam was invited by the mayoress - it was an invitation to the table of brotherhood and here he walks out.
"It smacks of inauthenticity. He says he's not Islamophobic but that is like saying I'm turning right and then he turns left."
It is customary for the authority to start its full council meetings with a prayer from a local Christian leader, but the lord mayor was keen to involve other religious groups as well in an effort towards greater inclusion.
Councillor Riches said she was "deeply disappointed" by Mr Hey's actions and they had not yet spoken.
"We are a multi-cultural, multi-faith city and in my particular ward I have the mosque and a Sikh temple.
"I'm deeply disappointed that he felt he should leave the chamber.
"I feel, in a way, it's being disrespectful."