New Forest charity highlights homeless young men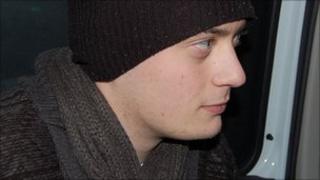 A Hampshire charity has said a lack of affordable housing in the New Forest is forcing more young men to sleep rough.
Nightstop said it had seen an escalation in 18 to 20-year-olds at local colleges being referred after experiencing family breakdowns.
Co-ordinator Jude Todd said: "They aren't street-hardened people. They're young, scared, overwhelmed and alone."
She said the New Forest had fewer bedsits than urban areas and young men did not have housing priority.
'Going backwards'
"Michael", 19, was forced to sleep in a shed near his family home in New Milton for two months at the end of 2010 after his mother told him to leave.
He said: "It wasn't nice at all. It was very lonely and I was freezing. I was cast out and no-one wanted to know.
"I felt like I was going backwards. I've always worked and done something towards my future. I never ever thought this would happen to me," he added.
The Nightstop charity, based in Ringwood, offers emergency overnight accommodation.
Ms Todd said the housing system put single young men further down the priority list as "there is an expectation they should be able to cope".
Without a fixed address, she said there was a "knock-on impact" on their job prospects, access to benefits and confidence.
"Every boy that stays with me cries - they are at risk and vulnerable," she said.
Family breakdown
A spokesperson for New Forest District Council said there was a housing shortage in the forest, with over 5,000 households waiting to be housed via the housing waiting list.
They said: "The homelessness legislation sets out who the council can consider to be in a priority need category and as such the council does not have a duty to accommodate all people who find themselves to be homeless.
"However, we offer advice to people who are homeless, which includes referring some to Nightstop.
"It is unfortunate that some people become homeless as a result of a family breakdown and anyone finding themselves in this situation can contact the council to establish what their housing options are."