Basingstoke hotel guests evacuated after fire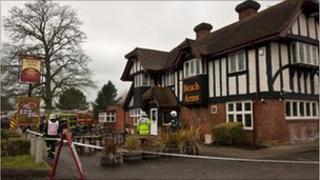 An investigation is under way following a fire at a hotel and bar in Hampshire.
Two members of staff attempted to put out the blaze, which started in a first floor boiler room, at the Beach Arms Hotel in Basingstoke.
More than 30 fire crews tackled the fire, which started just after midday on Saturday.
Station Manager Ryan Thurman said the roof could have been seriously damaged if it was not for a well-maintained smoke alarm system.
He said: "Two members of staff had attempted to tackle the blaze with a fire extinguisher, however the hotel manager took the right course of action by swiftly evacuating the whole premises and alerting the fire and rescue service."