Isle of Wight library protesters plan 'mass borrow'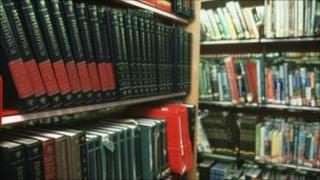 Campaigners trying to prevent Isle of Wight library closures are planning a "mass borrow".
Library members are being urged to take out their full allowance of 30 books at Newport's library on Saturday.
The borrowing protest is aimed at highlighting council plans to close nine of the 11 branches.
Organiser David George said: "It's not a plan, it's a decimation. This is an opportunity for library users to express their anger. "
The council says the plan will save £633,000 by April 2012.
'Vandalism'
The protest, which is due to begin at 0900 GMT, is based on a similar campaign in Stony Stratford, near Milton Keynes, where all 16,000 books were borrowed earlier this month.
Five libraries on the Isle of Wight are due to close in March 2011 and the council wants community-run libraries to replace four others.
Libraries at Newport and Ryde would be improved under the plans which are currently out to public consultation.
The library cuts are part of the Conservative-run council's plans to save £32m over the next four years.
Conservative councillor Dave Stewart said: "Good competent volunteers will be able to meet the needs... and will be able to sustain and potentially improve the service."
Retired teacher Sue Morgan, taking part in the borrowing protest, said: "A shelf of books in a pub is not a substitute for a professional library.
"This is vandalism and we've got to stand up for what we know are the right provisions."